From Automatic to Authentic:
Exploring the Enneagram Map as a Guide for Transformation
A 2-Day Enneagram Immersion with Sandra Smith
We respectfully require all in attendance to mask for this event, for the sake of those who may be immune-compromised who wish to attend.
January 28 & 29, 2022 | 9:00a – 4:30p
We all have personal inner narratives and ways we go on "automatic," which limit our capacity for living and loving fully. The Enneagram Map helps us build awareness of these patterns and narratives and provides a foundation for moving beyond them.
Deepen your self-awareness and become less reactive, more curious, and more compassionate by learning…
Each type's first placement of attention and the associated blind spots
The world view and ego ideal of each of the nine types
The inherent strengths of the types that include drawing from the resource points
The three centers of intelligence
Explore the Enneagram in Groups and Panels
During this intensive, participants will explore aspects of their Enneagram type in type groups as well as in panel interviews.  Panels of each of the nine types allow us to learn from the life experiences of the types and evoke more compassion for the pitfalls and pathways of each type. A key piece of our time will be exploring our "ego ideal" or the "idealized self" along with the world view of each of the types. Learning how these parts of our ego structure shapes us and moves us supports our growing beyond who we think we are.
Additionally, presence practices will help to focus us and deepen our learning together.  Participants will leave with type-specific questions for journaling as well as strategies and practices for moving beyond automatic patterns and being more present to the life we have.
Meet Your Enneagram Teacher
Sandra Smith, MDiv, is a Certified Narrative Enneagram teacher and an IEA (International Enneagram Association) Accredited Professional. For over 20 years, Sandra has taught the Enneagram internationally as a tool for personal, professional, and spiritual development. She co-hosts the podcast, Heart of the Enneagram, which explores dimensions of the nine unique personalities by way of interviewing guests of all nine types. Since its release, the podcast has had over 325,000 downloads in 80 countries. She co-authored the podcast companion book: Heart of the Enneagram: A Companion for Deepening Personal and Spiritual Growth.
BONUS!
If you are a spiritual director, therapist, or coach looking to utilize the Enneagram in your work, Sandra Smith will be hosting a lunch to provide you extra guidance.
The Enneagram offers a clear map of nine distinct ego structures, their focus of attention, motivations beneath behaviors, core fears, and inherent strengths.
Rather than focusing on external behaviors as other systems do, the Enneagram brings to consciousness "why we do what we do" and indicates how we go on automatic.
As we deepen our self-awareness, we become less reactive, more curious, and more compassionate.
Understanding the nine different filters and motivations allows us to be more patient with differing points of view and lessen our judging.
An Introduction to the Enneagram
Participants need not know their Enneagram type. Yet, this experience will also be particularly useful to therapists, coaches, and spiritual directors who work with clients who know their Enneagram type. Whether new to the Enneagram, more advanced in your learning, or teaching the system, this two-day immersion experience will offer you material to deepen your self-understanding as well as expand ways of using the Enneagram Map.
This 2-day workshop costs $175 ($150 early bird) cost includes all two days of retreat and lunch both days. Limited Scholarships are available upon request. There will be no childcare provided.
Chapelwood United Methodist Church
Meet in "The Upper Room"
11140 Greenbay St.
Houston, TX 77024
From Lot C: enter Entrance 10. Upon entering, take the first doors to your left (or the elevator next to the doors) upstairs to the "Upper Room."
From Lot B: enter Entrance 7. Upon entering, take your first left and walk down that hallway until you see the gym entrance. Then take a right down that hallway. You will begin to see signs for the Upper Room. Take a left to go up the stairs.
Our ushers will be stationed at both entrances and will help you find your way.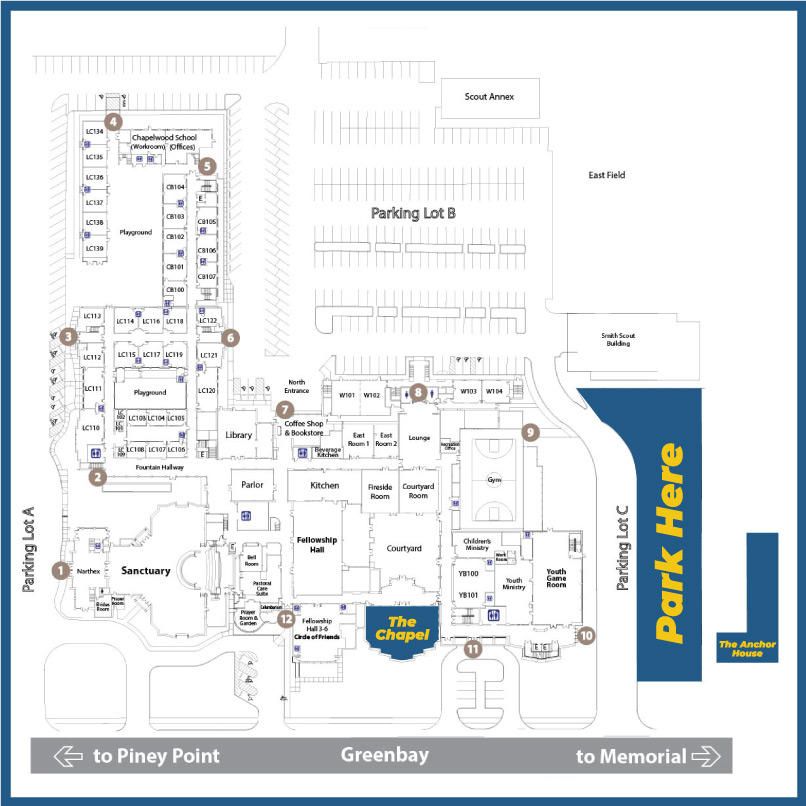 We respectfully require all in attendance to mask for this event, for the sake of those who may be immune compromised who wish to attend.